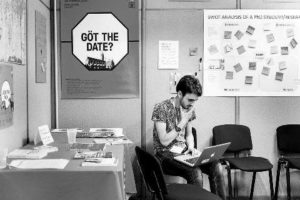 The Society for Experimental Biology (SEB) is offering an internship for a postgraduate student/early career scientist to gain a month's training in press and publicity during the period 12 June – 6  July 2017. The placement will be suitable for someone who is seeking a career in science journalism, scientific administration, or as a publicity officer. Applicants with some experience of non-academic science writing will be given priority.
Working under the guidance and supervision of the Head of Education & Public Affairs, the main activities will be to:
• Write press stories from the SEB's Annual Meeting (3 – 6 July 2017, Gothenburg) in advance of the Meeting.
• Identify potential news stories from the meeting abstracts and interview speakers ahead of the meeting in order to produce interesting, eye-catching press notices.
• Send out the press releases to the media using Eurekalert (training given).
• Attend the SEB Annual Meeting in Gothenburg as its press officer: to liaise with journalists and science editors, organise interviews, take publicity photos, attend relevant talks and visit posters, and write additional news for release during the meeting.
• Assist in the organisation and running of the Education programme during the Annual Meeting if required.
You will need to be self-motivated with excellent communication and time management skills. You will be given the option to work remotely for the most-part of the internship, however, you will be expected to visit the SEB office initially to liaise with the Head of Education & Public Affairs, and remain in close contact throughout the duration of the placement. You will also attend the SEB Annual Meeting full-time from 2 – 6 July 2017 inclusive. All reasonable travel, accommodation and living expenses will be paid.
This is an excellent opportunity to further develop your experience of science communication (previous winners have secured jobs as news editors, science writers and publicity officers). To register your interest for this post, please email Sarah Blackford (Head of Education & Public Affairs), with your CV highlighting your science communication experience and skills (including any examples of your science writing), and stating why you are applying for this post. s.blackford@lancaster.ac.uk. Closing date: 4 May 2017.